Invite Aaron to Speak
---
BOOK AARON
---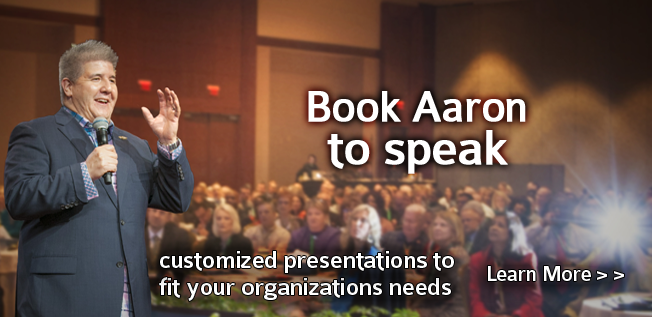 Do you need your audience Educated, and Inspired to Take ACTION?
Aaron will do much more for your audience than motivate them, he will educate and inspire them to take ACTION!
When you book Aaron for your next event, you will receive customized content that will exceed your expectations! - Randy Blubaugh, Vice President of Human Resources had to say, "I want to let you know that I just watched Aaron go through his presentation on DISC and it is the best presentation that I have ever seen. So if you are have group of folks that are an executive team, or even a non-executive team, I encourage you to take advantage of his unique style of presenting this information"
Pre-Event:
Most speakers will schedule a conference call with you prior to the event and customize their content. Aaron does this and so much more…..
Are you seeking more registrations?

Aaron will shoot a customized, professional video just for your event to embed into your registration page or include in your emails. This has proven to increase registrations by 15-20%

Want your registered attendees to feel special?

Aaron will also shoot a customized video just for your event telling your registrants that he "Can not wait to meet them" as well as and sharing a few nuggets on what they can expect from the event.
During the Event:
Most speakers just show up, some show up right before their speaking time and leave shortly after.
Creating an experience for your attendees?

Aaron is about building people! Aaron is willing to stay for your entire event (as requested). Attendees LOVE being able to connect with the keynote speaker before and after they speak.
Have VIP's? Top performers?

Give them an additional perk of being seated with Aaron at a meal, or special meet and greet time during the event. Aaron will work with you to ensure attendees feel special.
After the Event:
As you know, just because the event is over, doesn't mean it's over…
What worked? What needs improvement?

Aaron will be available for a post event call to after action review the event. What keynote message really resonated with the attendees? What message could use more emphasis?

Emphasize objectives!

Aaron will shoot a short training video emphasizing one key point in the lesson or message. This can be for the attendees, or to send to those who were unable to attend.

Added Value

As an added value to your group, Aaron will also provide you with 30 days of access to 4 training videos on how to effectively connect with others. This comes from his experience as a Certified DISC Human Behavioral Consultant.
Aaron truly connects with your audience throughout the event and your attendees leave EDUCATED and INSPIRED!
Why wait? Book Aaron Now.
For more information on hosting Aaron Antillon at your next event, including availability and fees, complete our Speaking Inquiry Form or contact Aaron by email.
EXPERTISE & TOPICS:
Aaron has trained, and delivered keynote on the topics of leadership, teamwork, relationships, attitude, success, personal growth, and communication. He works to tailor each presentation to the needs of his specific audience. Here are some sample "talks":
The 5 Essentials to Taking A-C-T-I-O-N

How to Overcome Limiting Beliefs

Living with Purpose on

Purpose

G-R-O-W Yourself As An Effective Leader

Communicating Effectively for A Supersize Impact

How to Unlock Your Teams Potential